The legend of Shangri-la as an earthly paradise was created by James Hilton in Lost Horizon, which later inspired the naming of Shangri-La Hotels and Resorts. The intimate bond between a Himalayan utopia and a world famous luxury hotel brand was once again put under the spotlight as Shangri-La Resort, Shangri-La opened in Diqing, Yunnan province.
Vantaly Consultants were honoured to undertake this significant hotel art project marked by the long-awaited moment of "Shangri-la back to Shangri-la". Stepping into this breathtakingly beautiful land populated by hospitable Tibetans in northwest Yunnan, one will immediately be captivated by the distinctive local culture featuring Tibetan characteristics blended with Indian and Nepal influences, which became the main source of inspiration for our exquisitely crafted site-specific artworks.
01
Greeting Brazier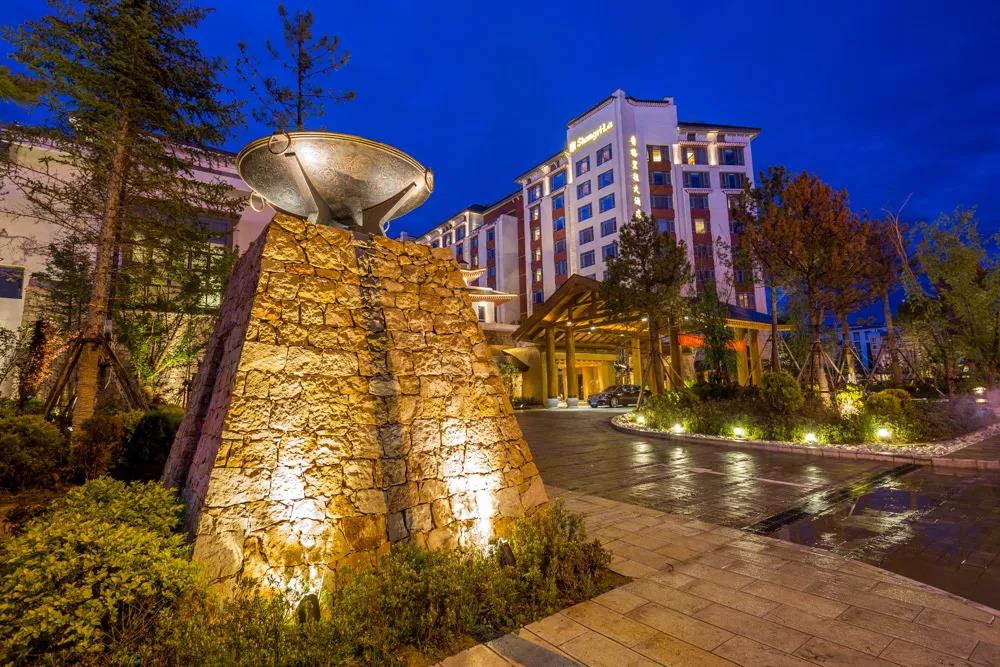 Fire is worshipped by local Tibetans as a sacred and blessing element, and it is a unique custom in Shangri-la to welcome distinguished guests with a brazier placed at the doorstep. To re-enact this special ritual at the hotel gate, a giant brazier fashioned in typical Tibetan style was erected to greet the coming guests, celebrating local hospitality in this simple and solid artwork.
02
Bronze Chimney and Yak Butter Lamps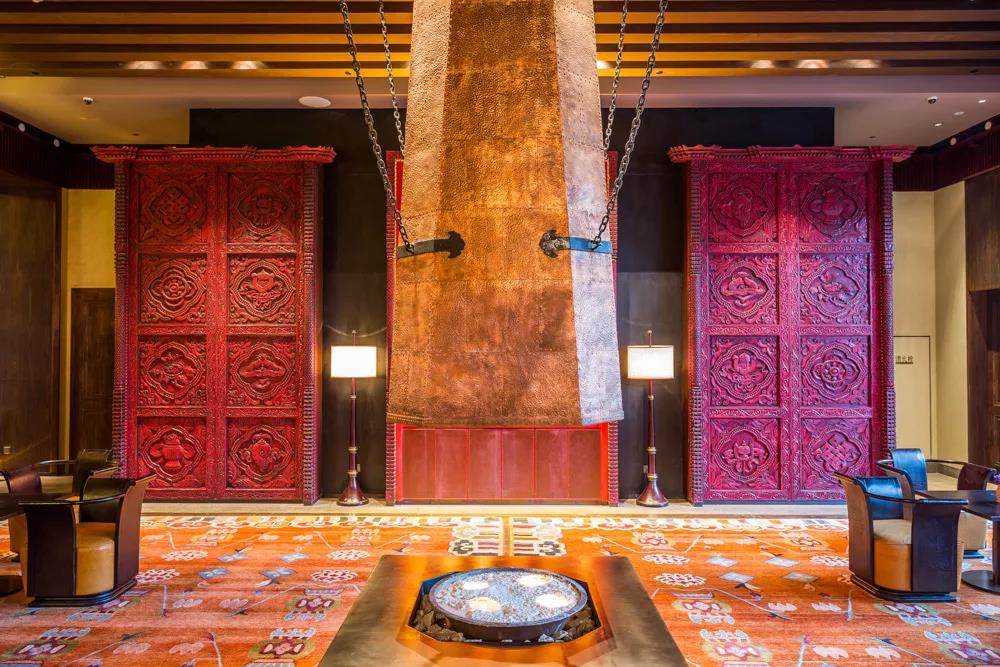 A warm fireplace is essential to Tibetan family life. Hung in the centre of Aroma Room where guests are served with hot tea, a high-rise bronze chimney was handcrafted by our studio in such a sophisticated way that its surface glitters a natural metallic lustre.
Under the chimney lies a bronze brazier with lamps fueled by yak butter, the Tibetan staple food. Those permanently lit lamps bless the guests with the rich aroma of yak butter in which all the bitter cold and fatigue one suffers during the long journey delightfully dissolves.
03
Nepal Red Doors and Indian Carpet
The two wooden doors in bright red colour and the ornate carpet covering the floor are two pieces we specially commissioned from artists of Nepal and India, in an effort to demonstrate the splendid fusion of diverse cultures in Shangri-la.
With admirable sculpting techniques, Nepal artists with whom we collaborated carved out eight auspicious symbols in Tibetan Buddhism on the doors, greeting guests at the Shangri-la hotel with best wishes from afar.
A pilgrimage to the Indian holy city Varanasi rewarded us with this magnificent wool carpet made by local craftsmen. The long-standing exchanges between Indian Buddhism and Tibetan Buddhism were elaborately woven into the patterns of lotuses and auspicious clouds.
04
Tree of Life
Thangka is a Tibetan Buddhist painting, through which one is able to have a glimpse of the rich and profound spiritual world of Tibet.
Drawn inspiration from Thangka art, we created an artwork titled "Tree of Life", embodying local Tibetans' great passion for life.
05
Tibetan Weaving
Weaving colourful threads into various daily objects is a traditional craft loved by local Tibetans.
Following the ancient knotting method of Tibetan weaving, we dyed the wool threads with bright colours, then wove them by hand into geometric patterns, creating artworks to decorate the corridor walls with typical Tibetan features.
06
Prayer Flags Made of Wool Felt
Iridescent prayer flags flying in the pure blue sky forms one of the most impressive scenes of Shangri-la. The blessing words written on those rectangular flags are the sincere prayers made by local residents to the gods dwelling above.
This pious scene was creatively transformed into guestroom artworks in the hands of Vantaly artists. Strips of Tibetan wool felt were dyed with varied bright colours, and carefully arranged to create a subtle colour gradation, resembling those blessing rainbows under the Shangri-la sky.
07
Artworks in Lotus Form
Lotuses are revered as sacred flowers in the Buddhist belief, thereby frequently seen as bliss-inspiring symbols.
The nine-layer skies lamp hung in the lobby was created through exquisite craftsmanship.
To make the intricate lotus patterns engraved on the surface glitter delicately under the light, each bronze sheet was hand-hammered, coated with gold foil, and thoroughly heated with fire until the desired effects were achieved.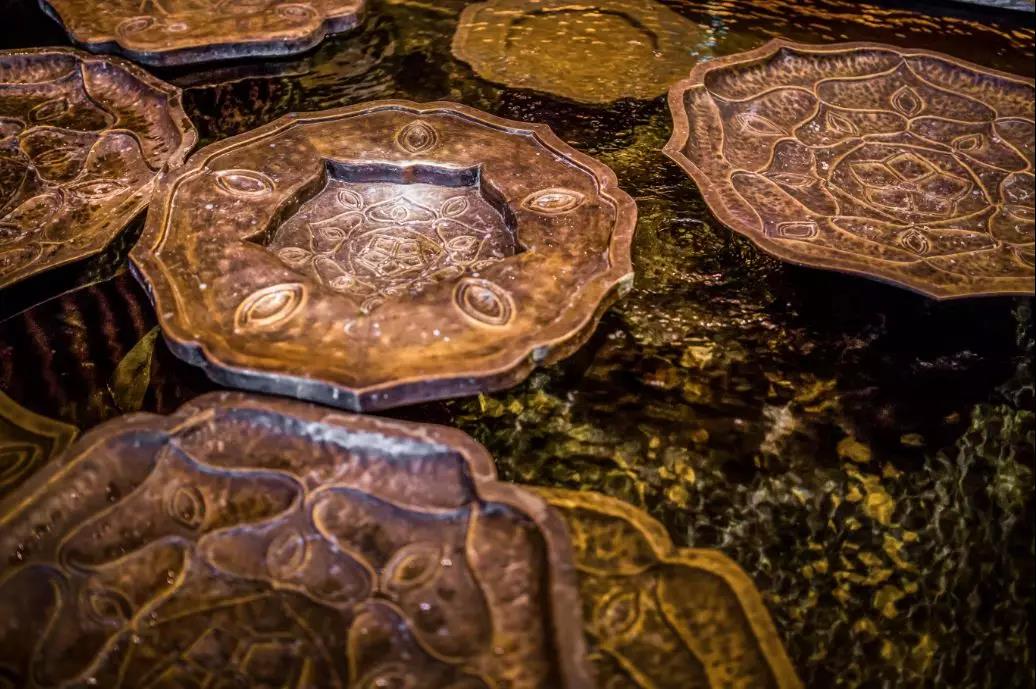 Right below the pendant lamp is a small pond floating nine hand-made bronze lotuses. Each lotus piece is designed in the form of Buddhist lotuses.
To represent the three stages of reincarnation in Buddhism, we adopted rigorous mechanics in the arrangement of those bronze lotuses so as to make some float on the water surface, some suspend in the middle, and some rest at the bottom.
The outdoor sculpture is inspired by the lotus seat of Buddhism. Each hand-made bronze lotus petal is decorated with kallaites at the tip, precious stones typical in Tibetan regions, while the flower centre shines with natural crystals. The artwork glows with the rippling water at night, resembling a brilliant pearl of Shangri-la.